We can install, repair and upgrade your business CCTV system. We specialize in the higher end intelligent IP, Hybrid and Analogue CCTV equipment from manufacturers such Axis, Bosch, Samsung. These systems have the intelligence to provide detection, tracking and remote monitoring and even alerting via smart phones.
CCTV is a very powerful tool in the fight against crime as it provides a visual deterrent, and footage can be used to provide evidence against anti-social behaviour, theft, vandalism and burglary.
20% of businesses in the UK are affected by crime each year plus hundreds of thousands of burglaries, and this costs a staggering £5bn.
The following is the list of our products and services:
Supply, Installation and Commissioning of CCTV systems

IP and Analogue cameras

Static and Pan-tilt-zoom systems

IP, Hybrid and Analogue systems

Intelligent PIR detection and auto tracking CCTV systems

Smart phone and remote viewing

CCTV system support & maintenance

Spares, Peripherals and Upgrades
Why Use Cuberoot for

CCTV
Technology is a minefield, the technical specifications of the latest CCTV technology gets longer every day, as manufactures offer ever more complex equipment to stay ahead of the competition. But here's the rub, this technical complexity is difficult to understand and even more difficult to implement into a real life situation.
For complex equipment like this you can only go to the very best manufacturers who care about their products, have tested them and who will support us to support you. Understanding this technology and providing the support is key and to what we do.
Intelligent CCTV systems 
Intelligent CCTV systems such as those from Samsung that employ auto motion tracking are a great innovation and now are very affordable. This technology uses embedded algorithms to identify objects (for example, people or objects, although you can also configure the system to include or exclude animals) within a camera's field of vision.
The system is 'trained' to identify and report certain behaviours, which it will do by transmitting the alarm to an operator with a clear highlight around the cause for alarm.
Click Image below to play video
Recommended Camera

Choices
Smart phone and remote viewing
Many of the systems we sell are now compatible with smart phones. The ability to remotely view CCTV footage of your home or business on your phone is a powerful tool in crime prevention. Systems can be configured to send an email or text alert if any motion is detected out of office hours or from home during the day when at work. You can then logon to the CCTV system and check for any unwelcome visitors.
Samsung SCP-2370RH
The Samsung SCP-2370RH is a high speed professional infrared PTZ camera that features a 37x optical zoom and built-in IR LED's. The SCP-2370RH adjusts the infrared intensity to provide the appropriate amount of IR light at certain zoom ratios allowing it to capture details in the dark up to 328ft. The SCP-2370RH offers true day & night, motion detection, and delivers clear and vivid images. It is IP66 rated making the SCP-2370RH suitable for any challenging condition.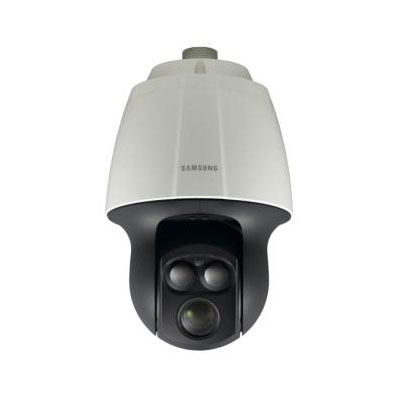 Samsung SCP-3370TH
The SCP-3370TH is an outdoor PTZ dome that includes advanced auto tracking and a 37X auto focus zoom lens (3.5-129.5mm) with low light level capabilities of 0.7Lux Colour. The PTZ has full 360° capability, 500° per second pan speed, and 255 presets. With Samsung's SV-V DSP engine, the SCP-3370 PTZ domes feature SSNRIII, the 3rd generation of Samsung Super Noise Reduction, WDR, and VPS (Virtual Progressive Scan). This camera comes with an IP66 rated housing and has a built-in fan & heater. The SCP-3370TH is compatible with a range of control protocols via both RS-485 and coax.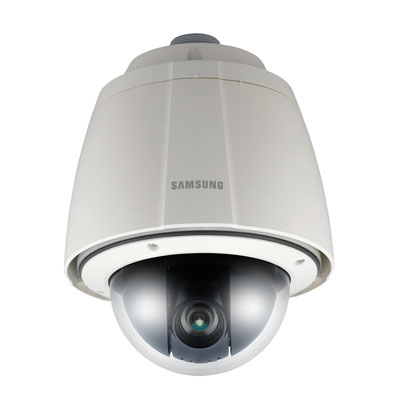 Our Offerings
Internal Cameras

Digital Hard Drive Recorder

External Cameras

Video Transmission Equipment

Day/night Cameras

Video Motion Detection Equipment

Infra-red Cameras

Camera Remote Control

IP Cameras

Smart Phone CCTV viewing

Pan Tilt Zoom Cameras

Viewing via Computer Networks

Video Motion Detection Cameras

Dome Camera Housing & Control

Covert Cameras

Radio Transmission Cameras